News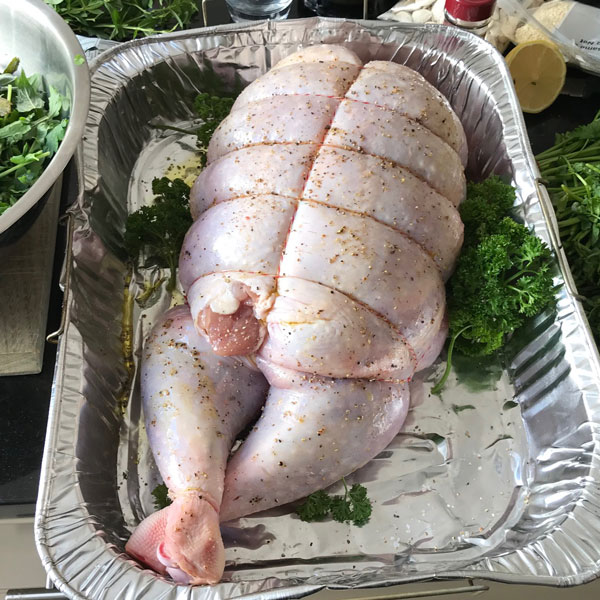 Pre-heat your oven to 180°C
Lightly rinse and wipe your Turducken dry with kitchen paper.
Transfer the Turducken to a baking tray and coat with a simple marinade of 2 tbs olive oil, 30g melted butter, 1 cloves of fresh garlic roughly chopped, 3 sprigs of thyme, sea salt and pepper.
Add 250ml (or more depending on cooking time) of chicken or turkey stock to your baking tray. This will keep the Turducken moist and assist with basting the meat during cooking.
Place in your oven and loosely cover it with foil.
A Turducken needs to cook for an 1hr for the first kilo and then 40mins per kilo thereafter. For example, a 5kg Turducken will take approximately 3hr and 40mins to cook.
Remove the foil completely from your meat for the final 30 mins to brown it.
If unsure, when your meat is cooked the juices run clear after being pierced in the thickest part of the roll with a skewer.
Allow your Turducken to rest in a warm place for approximately 15minutes before carving. This will ensure that the juices have settled and will make the meat very succulent.
While your meat is resting, strain the juices from the baking tray to remove any garlic and thyme from the marinade and place 1 cup of those baking juices in a saucepan along with our homemade turkey gravy. Bring to the boil then simmer for 5 minutes. Serve it along with some cranberry sauce.
< Back To News