American BBQ T-Bone Steak
Prep Time: 20 mins
Cook Time: 10 mins
Serves: 4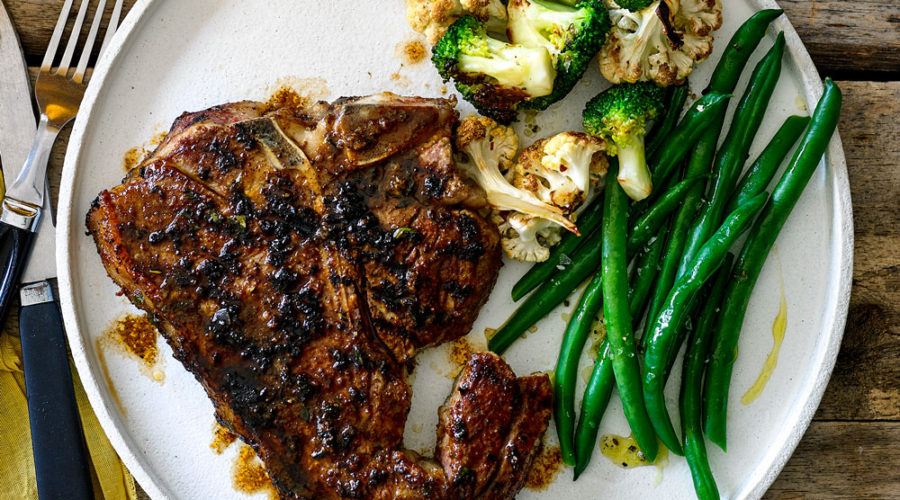 Ingredients
4 T-bone steaks
2 tsp smoked paprika
2 tsp ground cumin
2 tsp onion powder
1 tsp chilli powder (optional)
1 tbsp brown sugar
2 tbsp olive oil
3 cloves garlic, crushed
1 tbsp freshly chopped oregano
1 tbsp freshly chopped thyme
Pan roasted cauliflower, broccoli, steamed green beans & relish of your choice, to serve
Instructions
1. Place spices in a small frying pan over medium heat. Cook, tossing, for 1-2 minutes or until spices are toasted and fragrant; remove pan from heat and cool.
2. Place toasted spices, sugar, oil, garlic and herbs in a small bowl. Place T-bone steaks on an oven tray and using your hands rub both sides evenly with the hickory spice mixture; season to taste. If time permits stand for 3-4 hours or over night.
3. To pan roast your cauliflower and broccoli, heat oil or butter in a large frying pan over high heat, add thick cut cauliflower and broccoli florets and cook, tossing, until golden. Season to taste.
3. Preheat a barbecue or char grill pan to high. Cook the steaks on one side until the first sign of moisture appears. Turn the steak once only. Test for the degree of doneness with tongs. Rare is soft, medium feels springy and well done is very firm.
4. Remove the steaks from the heat, loosely cover with foil and allow to rest for 2-4 minutes before serving.
5. Divide t-bone steaks among plates. Serve with pan roasted cauliflower, pan roasted broccoli and relish.