Bacon & Cheese Pull Apart
Prep Time: 10 mins
Cook Time: 25 mins + Proofing time
Serves: 4-6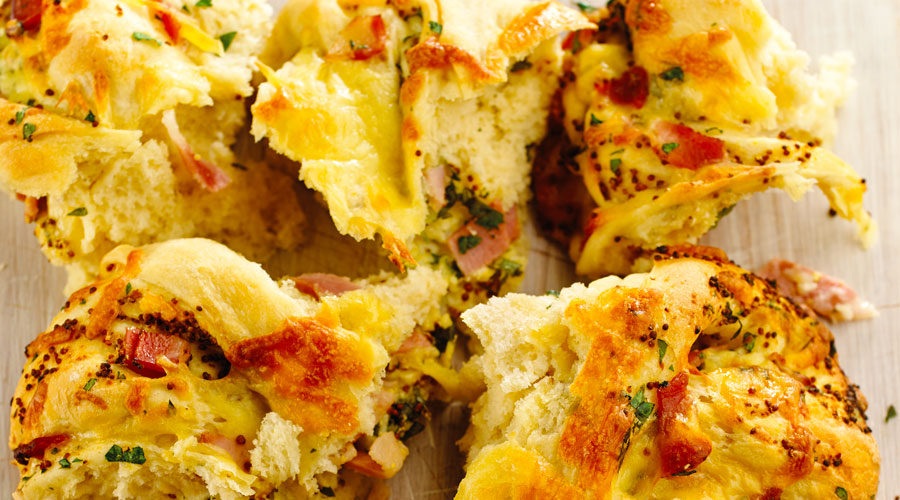 Ingredients
4 cups strong white flour
½ teaspoon salt
2 teaspoons dried yeast
1 teaspoon sugar
1 cup warm water
2 tablespoons olive oil
Approx 3/4 cup extra warm water
2 rashers Australian middle bacon, roughly chopped
2 tablespoons seeded mustard
2 tablespoons parsley, finely chopped
½ cup mature cheese, grated
Milk for glaze
1/4 grated cheese for garnish
Instructions
1. Preheat oven to 190c
2. In a large bowl combine the flour and salt. Make a well in the centre and set aside.
3. In a small bowl combine the yeast, sugar and warm water mix well. Allow to rest in a warm place until the surface foams. This should take approximately 10 minutes.
4. Pour the yeast mixture into the centre of the flour and add the olive oil.
5. Fold mixture into the flour adding a little more water when required to make a soft dough.
6. Turn dough out onto a floured surface and knead for 3 -4 minutes.
7. On a floured surface roll the dough out to form a large rectangle approximately 2 -3 cm thick.
8. Spread the surface of the dough with seeded mustard, sprinkle with chopped parsley, Cover the surface evenly with chopped Australian middle Bacon. Sprinkle over the grated cheese.
9. Fold the ends of dough towards the centre 10 cm; fold the sides into the centre to form a loaf shape. Place the loaf onto a baking tray fold side down. Cut the loaf on each side in 4 thick slices 2/3 through. Twist each slice to expose the filling.
10. Cover loaf with plastic wrap and place tray in a warm place until loaf has doubled in size.
11. Brush loaf with a little milk and sprinkle with grated cheese. Bake in the pre-heated oven 190c for 20 -25 minutes until loaf is golden. Cool on a wire rack and serve warm or cold.
Notes: This loaf is also delicious made with Bacon, green olives and bocconcini cheese