Boned & Rolled Lamb Loin Roast with Buttered Beans
Prep Time: 20 mins
Cook Time: 75 mins
Serves: 4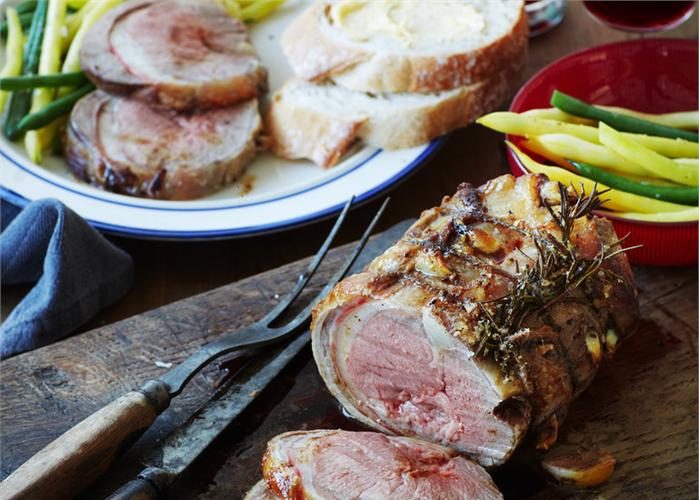 Ingredients
1¼ kg boneless Lamb loin roast, fat trimmed, skin on, trussed
1 large brown onion, thickly sliced
1 large carrot, roughly chopped into 3cm pieces
1 stick celery, roughly chopped into 3cm pieces
5 small rosemary sprigs, cut in half, widthwise
5 cloves garlic, peeled, left whole
60 ml (1/4 cup) olive oil
200 g baby green beans, trimmed
200 g yellow beans (butter), trimmed
50 g butter
Sourdough bread, to serve
Instructions
Preheat oven to 200C. To roast lamb, scatter onion carrot and celery over the base of a large roasting pan. Place lamb seem-side down.
2. Using a small paring knife make fifteen shallow incisions scattered all over the top of the rolled lamb loin roast; taking care not to cut the kitchen string. Stuff rosemary and garlic into each incision. Drizzle with oil and roast for 1¼ hours or until cooked to you liking. Rest for 15 minutes before carving, to serve.
3. Meanwhile, cook beans in a saucepan of boiling salted water for 3 minutes or until cooked but still with a crunch. Drain and place in a large bowl with butter. Season to taste.
4. To serve, divide beans among four plates and top with carved lamb. Serve with sourdough bread on the side.