Braised Lamb Shanks with Parsley and Lemon
Prep Time: 15 min
Cook Time: 1hr 50 mins
Serves: 4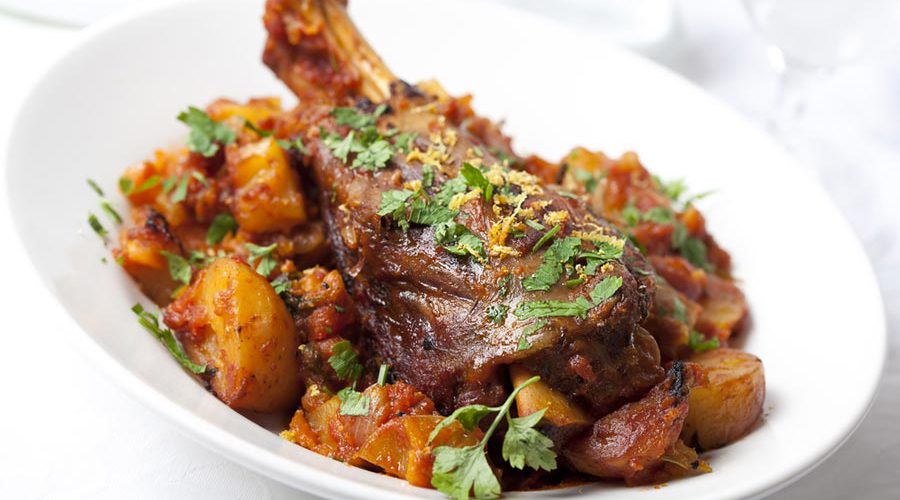 Ingredients
4 (about 400g each) lamb shanks
50g (1/3 cup) plain flour
Salt & ground black pepper, to taste
1 tablespoon olive oil
2 leeks, thinly sliced, washed and dried
1 680g can tomato soup
250ml (1 cup) dry white wine
250ml (1 cup) Vegetable Stock
1/3 cup chopped fresh continental parsley
2 garlic cloves, finely chopped
2 teaspoons finely grated lemon rind
Roasted potatoes, to serve. Can substitute for Mash potato if preferred.
Instructions
Place flour, salt and pepper into a bowl.  Ensure to be generous with the salt and pepper.
Coat the lamb shanks in the seasoned flour, shaking off any excess.
Heat oil in a large heavy-based saucepan over medium-high heat.
Add 2 lamb shanks and cook for 3-4 minutes or until well browned. Turn occasionally.
Transfer to a large plate and set aside and repeat with the other 2 lamb shanks.
After removing the shanks, reduce heat to medium and add the leeks to the pan.
Cook, uncovered, stirring occasionally, for 3 minutes or until leeks soften slightly.
Gradually add soup, wine and stock, scraping the pan to free any parts that have cooked onto the base.
Add lamb shanks, increase heat to high and bring to the boil.
Reduce heat to low, cover and simmer and stir occasionally for 1 and a 1/2 hours or until meat starts to come away from bones.
Combine parsley, garlic and lemon rind into a small bowl.
Divide the potatoes and lamb shanks among serving plates. Pour sauce over the top of both shanks and potatoes.
Sprinkle the lamb with the parsley, garlic and lemon rind mixture and serve.