Cider Pork Cutlet with Poached Apple & Pear
Prep Time: 5 mins (Plus Marinating Time)
Cook Time: 25 mins
Serves: 4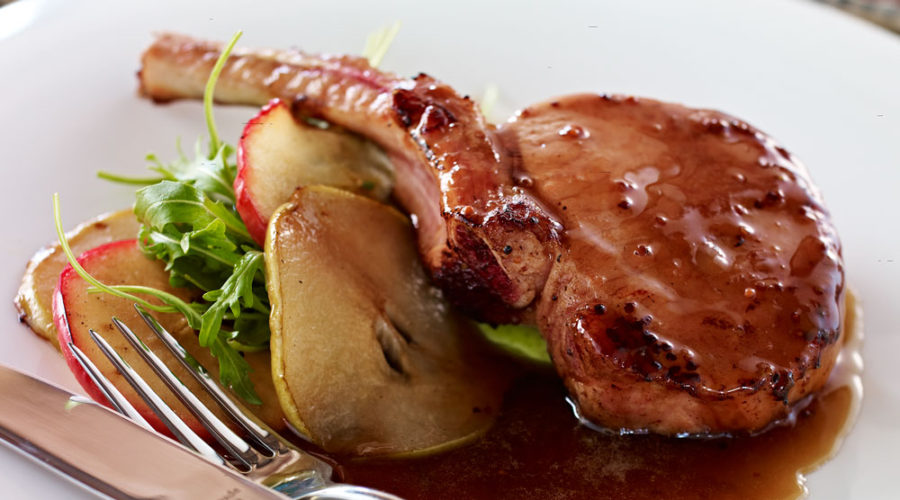 Ingredients
4 lean Australian pork cutlets
375ml apple cider
1 tblsp seeded mustard
1 tblsp olive oil
½ cup brown sugar
40g butter
2 small red apples, cored
2 small green pears, cored
Rocket salad to serve
Salt and pepper to season
Instructions
1. Combine 150ml of apple cider with seeded mustard and olive oil. Allow cutlets to marinate for up to 1 hour.
2. Place the remaining 225ml of apple cider into a small saucepan with the brown sugar and bring to the boil. Simmer until reduced. Add sliced apples, pears and butter to the reduced liquid and poach for 4 – 5 minutes.
3. Remove cutlets from the marinade. Heat the griddle pan over a medium heat and cook the cutlets for 4 – 5 minutes each side. Brush with a little glaze, remove from heat and allow to rest.
4. Arrange the pork cutlets and fruit on individual serving plates and serve with rocket salad. Season with salt and pepper.
Notes: apple cider may be replaced with pear cider for a delicious alternative.