Pulled Pork & Slaw Burger
Prep Time: 15 min
Cook Time: 1 hour
Serves: 8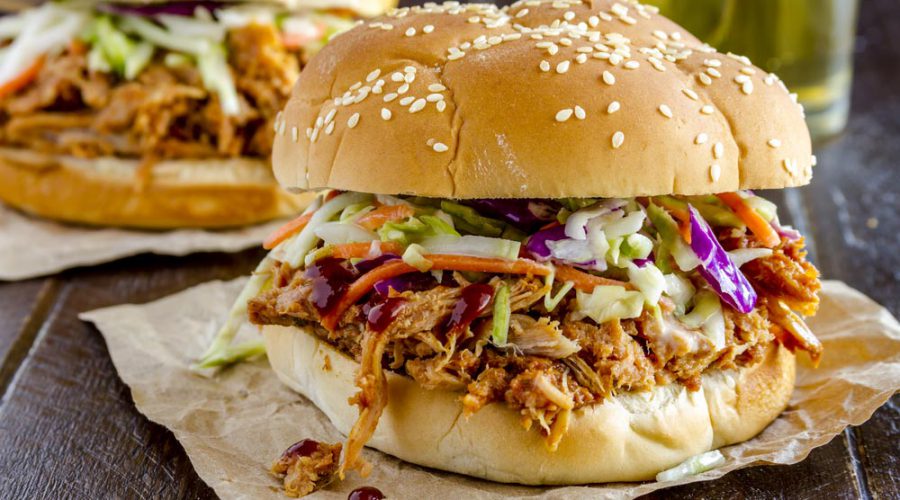 Ingredients
1 pork shoulder (weight 1.5kg) skin removed and fat trimmed
1 diced brown onion
1 garlic clove, minced
2 tablespoons olive oil
1 teaspoon garlic powder
1 teaspoon onion powder
1 teaspoon paprika
1 cup BBQ Sauce – Choose your favourite!
1 cup of water
8 buns
Slaw Mix
300g green cabbage shredded
150g red cabbage shredded
1 medium grated carrot
1/3 cup whole egg mayonnaise
¼ cup sour cream
2 teaspoons caster sugar
1 tablespoon cider vinegar
1 tablespoon Dijon mustard
1 tablespoon lemon juice
Instructions
Cut the pork into 4-5 pieces
Mix the garlic powder, onion powder and paprika in a small bowl to create a seasoning mix
Season the pork pieces with the seasoning mix
Add olive oil into the pot and brown the meat. Once browned, remove from pot and rest on plate temporarily.
Brown onions and garlic then add the BBQ sauce and cup of water. Add all the pork pieces back into the pot, cover and lock the lid.
Quickly increase the pressure by using medium to high heat. Reduce the heat to low once the pressure is at its peak and set for 1 hour.
After the 1 hour is up, turn off the heat and let the pressure be released naturally which could take up to 30 minutes.
Whilst waiting, put all ingredients of the slaw mix into a bowl and mix well. Place into the fridge until serving time
Once the pressure is released, carefully open the lid and remove the meat gently onto a plate and cover with foil to rest for 10 minutes and lock in the juices.
Shred the meat with two forks and mix in some of the sauce to taste from the pot
It's time to put your burger together! Cut the buns in half and place a generous amount of pork onto the base. Add your slaw mix on top and finish off the burger by putting the other half of the bun on top.