Satay Skewers with Satay Sauce
Prep Time: 15 mins
Cook Time: 8 mins
Serves: 4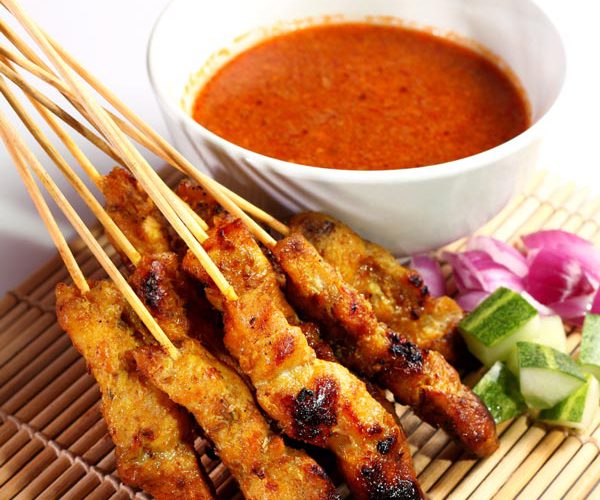 Ingredients
16 small bamboo skewers
16 chicken tenderloins or chicken breast cut into strips
100g Smooth Peanut Butter
125ml Chicken Stock
1 tablespoon of soy sauce
1 tablespoon of olive oil
1 tablespoon of lemon juice
Instructions
Add peanut butter, stock, soy sauce, olive oil and lemon juice into a small saucepan and mix well.
Thread tenderloins or chicken breast strips evenly onto each skewer lengthways
Generously coat the chicken skewers with the peanut sauce mix and place on a plate.
Overwrap plate with plastic and marinate for 1-2 hours at minimum.
Place remaining peanut sauce in the fridge until close to serving time.
Heat oil in a non-stick frypan on medium heat. Add 8 chicken skewers onto the pan and cook on each side for about 4 minutes or until golden brown and cooked. Place on plate and cover with loosely with foil.
Repeat with the other 8 skewers.
Heat up the sauce on the stove on high heat and simmer uncovered for 1 minute or until the sauce thickens. Ensure to stir to ensure the sauce doesn't stick.
Serve peanut sauce with chicken skewers.