Tangy BBQ Pork Steak with Crunchy Coleslaw
Prep Time: 10 mins
Cook Time: 20 mins
Serves: 4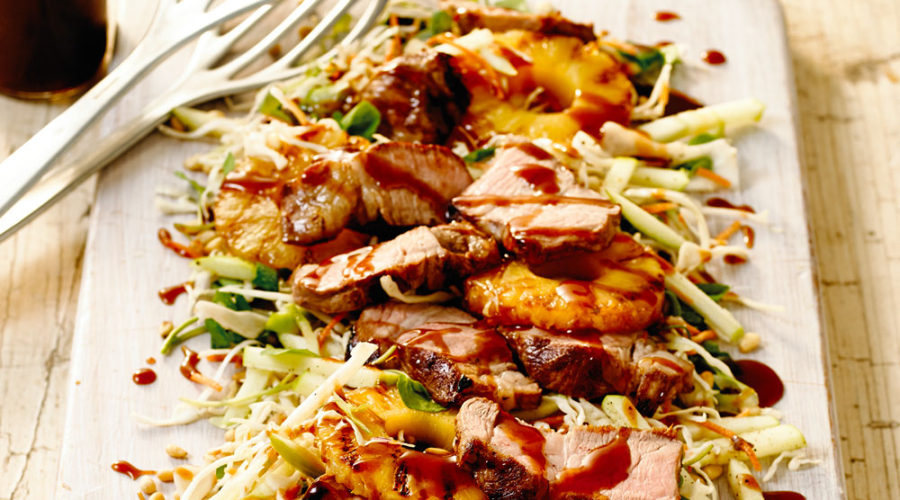 Ingredients
4 pork scotch fillet steak, 2cm thick
1 tablespoon oil
Salt & pepper
Sauce
1 cup BBQ sauce
½ cup pineapple juice
¼ cup brown sugar
1 tablespoon vinegar
Salad
2 cups white cabbage, shredded
1 cup red cabbage, shredded
1 carrot, peeled & grated
2 spring onions, finely chopped
1 green apple, sliced into thin sticks
40g pine nuts
4 fresh pineapple rings, grilled
Instructions
1. Brush the pork scotch fillet steak with a little oil and season with salt & pepper.
2. Pre-heat the griddle pan for 1-2 minutes over a medium heat.
3. Place the pork steak in the griddle pan and cook for 6 minutes, turn the steak and cook for a further 2 minutes. Remove steak from the pan and rest in a warm place for 2 minutes.
4. Combine the sauce ingredients in a small saucepan and stir over a medium heat, reduce heat and simmer for 4-5 minutes. Remove from heat set aside to cool.
5. Combine coleslaw ingredients in a large bowl and toss well. Pour over the dressing and refrigerate until required.
6. Arrange the coleslaw on a serving plate with pork scotch fillet steak, drizzle with tangy BBQ sauce and garnish with fresh grilled pineapple rings.
Notes: Pork scotch fillet steak may be replaced with pork loin steak, pork fillet medallions or pork leg steak