Twice Cooked Pork Belly with Ginger Honey Sauce
Prep Time: 15 mins
Cook Time: 2 hours 30 mins
Serves: 4-6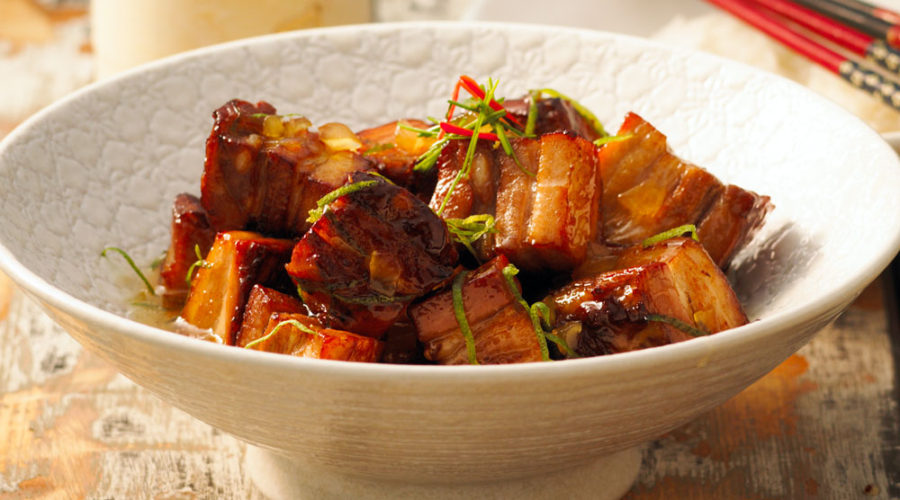 Ingredients
1.2 – 1.5 kg pork belly rind off
1 cup soy sauce
2 cups chicken stock
1 cup Chinese rice wine
2 cinnamon sticks
1 teaspoon five spice powder
5 cm ginger, peeled and chopped
Oil for shallow frying
1 cup honey
100g glace ginger, finely chopped
To serve:
Steamed rice
Shredded red capsicum
Fried shallots
Instructions
1. Pre-heat oven to 160°C.
2. Combine soy sauce, chicken stock, rice wine, cinnamon sticks, five spice and ginger in a small saucepan and bring to the boil.
3. Place the pork belly fat side up into a shallow baking dish and pour over the liquid and spices. Cover with foil.
4. Bake in the pre-heated oven at 160°C for 1 ½ hours. Remove and cool overnight in the pan. Weight the pork down with a plate and two cans of soup or beans.
5. Remove the pork from the pan and cut pork belly into 5 cm squares.
6. Heat the honey and ginger in a small saucepan over a low heat.
7. Heat oil in a deep sided frying pan or wok over a medium heat until it reaches 180°C. Fry the squares of pork until golden brown, remove and drain on absorbent paper and place in a large bowl.
8. Pour warm honey sauce over the pork belly and toss to coat.
9. Garnish with red capsicum and fried shallots serve hot with steamed rice.
Notes: this dish can be prepared well ahead of time up to 3 days